My Sites
Log in to create or edit your sites.
How to use widgets
WordPress Widgets add content and features which are usually displayed in a Sidebar. Examples are the default widgets that come with WordPress; for Categories, Tag cloud, Search, etc. New Widgets can also be installed via plugins.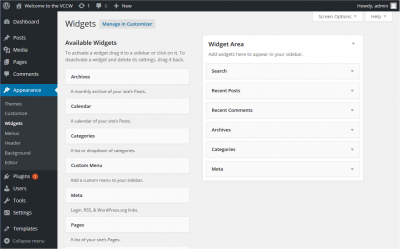 The "Available Widgets" shows all the widgets that you are able to use according to the plugins and settings you currently have on. To use one of the widgets, click and drag the desired widget to one of the locations available on the right hand side under "Widget Area." Once you do this, a menu will open allowing you to change specific settings of the widget. Make sure to press the "save" button to save all the changes to your site. If you want to remove a widget, drag it to the "inactive widgets" section if you plan to use the widget later. If you do not plan to use the widget again, you can just click on the widget and press "delete".